2015 @ Henry's Place
Another year to witness God's unending grace…
We are once again so thankful for all who have supported Henry's Place with their prayers and generosity! As we look forward to another great year, we wanted to update everyone on what went on in 2015:
In March, the weather cleared enough to allow us to finish installation of our main water system. We installed a
hydrant, valves, and over 1,100 feet of branch lines, all using volunteer labor. The camp water system is now all set and ready to connect to our future buildings.
On the heels of our water project, we once again had smiling youth out at Henry's Place. The local Department of Workforce Services and Youth Volunteer Corps donated pine saplings and the labor to plant them. In a few years we will have tall pines lining the road along the east side of Henry's Place!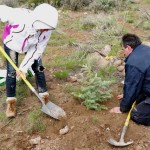 Also in April, we again had a team of men come out from Rock The World Ministries to help at the camp. They did an amazing job rebuilding the brakes on the backhoe and helping with other things around the camp.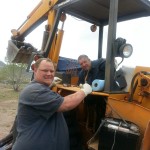 What a great country we live in: there's nothing like having men from Georgia and Florida helping a camp in Utah so it can impact kids from Nevada!
May was the occasion for our 9th Annual Henry's Place Golf Tournament and Charity Auction at Spanish Trails Country Club. Generous donors provided 217 prizes in all — which allowed us to raise over $33,000 for Henry's Place!
In June, Henry's Place turned back into a "working ranch" as Oreo and Clowny, our two borrowed cows, came back for the summer. July brought engagement with the local community through our booths at Cedar City's July Jamboree and nearby Duck Creek Days. Also during the summer, we resumed planning for the lodge and began the lengthy process of coordinating easements for our electrical system.
Much of that coordination came to fruition in October when, through selfless donations from Byrd Underground and Martin-Harris Construction, we were able to grade our parking lot and driveway (over 58,000 square feet!) as well as install our electrical conduit system. A November project to gravel the lot and driveway had to be postponed due to weather, so we are looking forward to fairer weather in the spring to finish that project.
In October, we were blessed to have Boy Scout Troop 256 come up from Las Vegas to install the first three obstacles on our challenge course. The young men did an incredible job of planning and installing the obstacles in only one day!
We have spent the remainder of the fall planning for next year's two-week summer camp, developing our future camp curriculum, and preparing for our capital campaign.
Through your incredibly generous donations of time, talent, and money over the past few years, we have the camp utility infrastructure 95% completed and are at the point where we are ready to start on camp buildings.
It's almost GAME TIME!
It's time to build a main lodge and start impacting youth! We are planning a capital campaign which we hope to kick off in early 2016. With success there, we hope to break ground on our main lodge by this summer! At the same time, even though we don't have completed facilities at Henry's Place yet, we are planning to run two one-week-long camps for at-risk youth utilizing the land at Henry's Place and other facilities in the Cedar City area. Please keep us in your prayers as we seek donors who can provide the needed capital for our lodge and volunteers to help with our camps in late July/early August. Especially pray that our first campers will have life-impacting experiences when they visit Henry's Place this summer!
The dream is becoming a reality and it is all because of people like you!
Thank you for continuing to move us down the road towards our end-goal:
Life changing experiences for at-risk youth!